Real-time Data Connectivity for Industry 4.0
IOTech Edge Connect is the first Industry 4.0 connectivity solution designed specifically for time-critical and resource-constrained industrial edge systems. The technology is used as a high-performance embedded OT connectivity solution by some of the world's leading industrial OEMs.
It provides a powerful edge software solution that simplifies the real-time acquisition of data from OT systems. Edge Connect supports key capabilities such as multi-protocol Southbound OT device connectivity, real-time data acquisition and aggregation, edge data processing, and data normalization to an Industry 4.0 standard OPC UA data layer that can be accessed by local edge applications or remote Cloud/IT systems.
An easy-to-use device management API based on MQTT is also provided to help on-board and manage the lifecycle of new connected device endpoints. MQTT can also be used to stream data to other edge applications or Cloud/IT endpoints or receive commands from external applications.
Edge Connect delivers these capabilities while also supporting the following key non-functional properties:
Small memory footprint
Ultra-low latency data processing
Predictable and deterministic real-time execution
Easily ported legacy hardware and/or operating system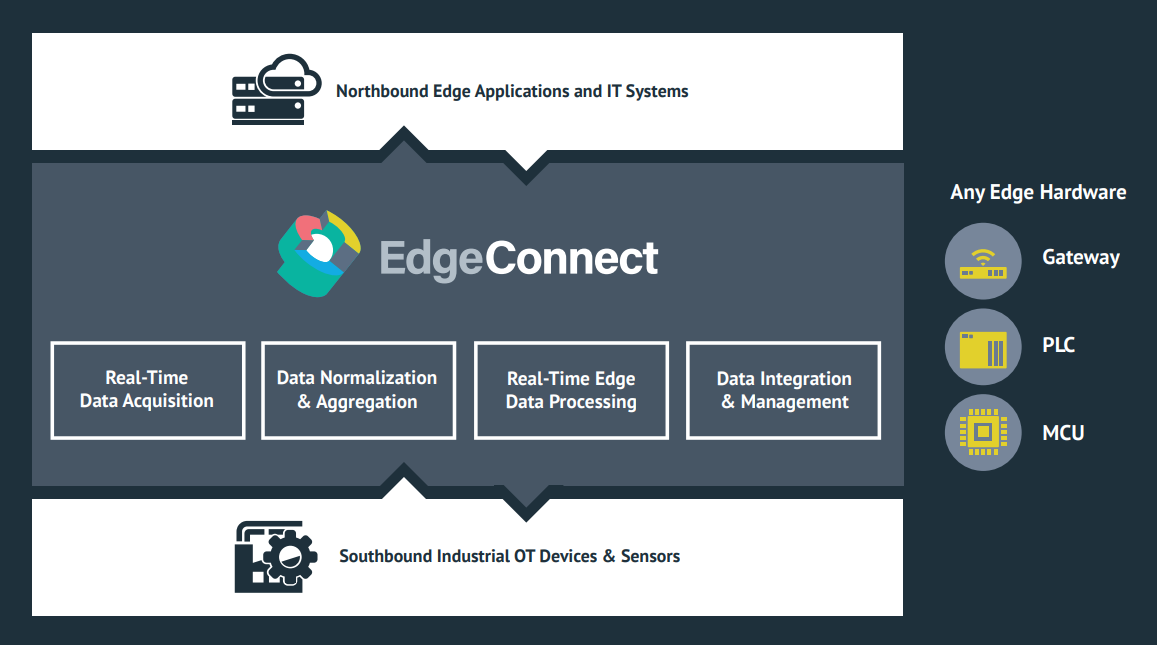 Due to its small memory footprint, Edge Connect is perfectly suited for resource-constrained embedded applications such as those enabled by the next generation of connected microcontrollers, or can just as easily be deployed on any other hardware of choice including Gateway, IPC, or Server class edge devices.
Simplified OT Connectivity and Real-time Data Acquisition

Simplifies development for connected real-time edge software applications enabling faster time-to-market and ease of product evolution for a new generation of Industry 4.0 capable data-driven solutions.

Comprehensive Configurable Industrial OT Connectivity

Provides extensive pluggable "out-of-the-box" data connectivity for many of the most common Southbound OT (e.g. Modbus, OPC UA, BACnet, EtherCAT, EtherNet/IP, PROFINET, s7, and many others) industrial protocols used by the leading device manufacturers including:- Allen Bradley, Siemens, Rockwell Collins, Schneider Electric, Johnson Controls, and Beckhoff, etc.

View the range of device connectors for Edge Connect

Easy Integration via Normalised OPC UA Data Layer and APIs

Can be easily integrated into 3rd party edge application stacks via an Industry 4.0 standard OPC UA server layer, or alternatively via MQTT API or for maximum performance even co-located with the same address space/runtime of your application.

Optimized Performance

Written in C for portability, small footprint, and ultra-high performance/low latency data acquisition and processing.

Complete Deployment Flexibility

Can be deployed as a native executable application, as a shared library linked directly into your application's runtime, or containerized (e.g. docker) and/or into a virtualized environment.

Runs on Any Device

A platform-independent solution that runs on any silicon (ARM or x86), operating system (with POSIX-like support), and hardware. Edge Connect enables the development of portable solutions that are easier to support and maintain.
Watch the Demo
Note: Edge Connect was previously named Edge Xrt
More Information on Edge Connect
Evaluate
Trial all features of Edge Connect for free
More Information
Download product brochures and data sheets