The Open and Scalable Edge Management Solution
IOTech Edge Manager provides a flexible and scalable solution for the management of hardware nodes and their edge applications. It has been developed by edge and OT experts to deal with the specific characteristics of edge management and has been built on a foundation of innovate open technologies.
Edge Manager enables light touch provisioning and complete lifecycle management for both edge nodes and their applications. Currently, it supports the deployment and management of both containerized applications and native binary applications at the edge.
Edge systems are managed from and a centralized Edge Manager controller that can be hosted either on-premise on in the Cloud. Platform independence for both the managed nodes (Gateway, IPC, Server or in the future even MCU class devices) and the Cloud environment (public or private) on which the controller is deployed ensures flexibility and choice for Edge Manager users.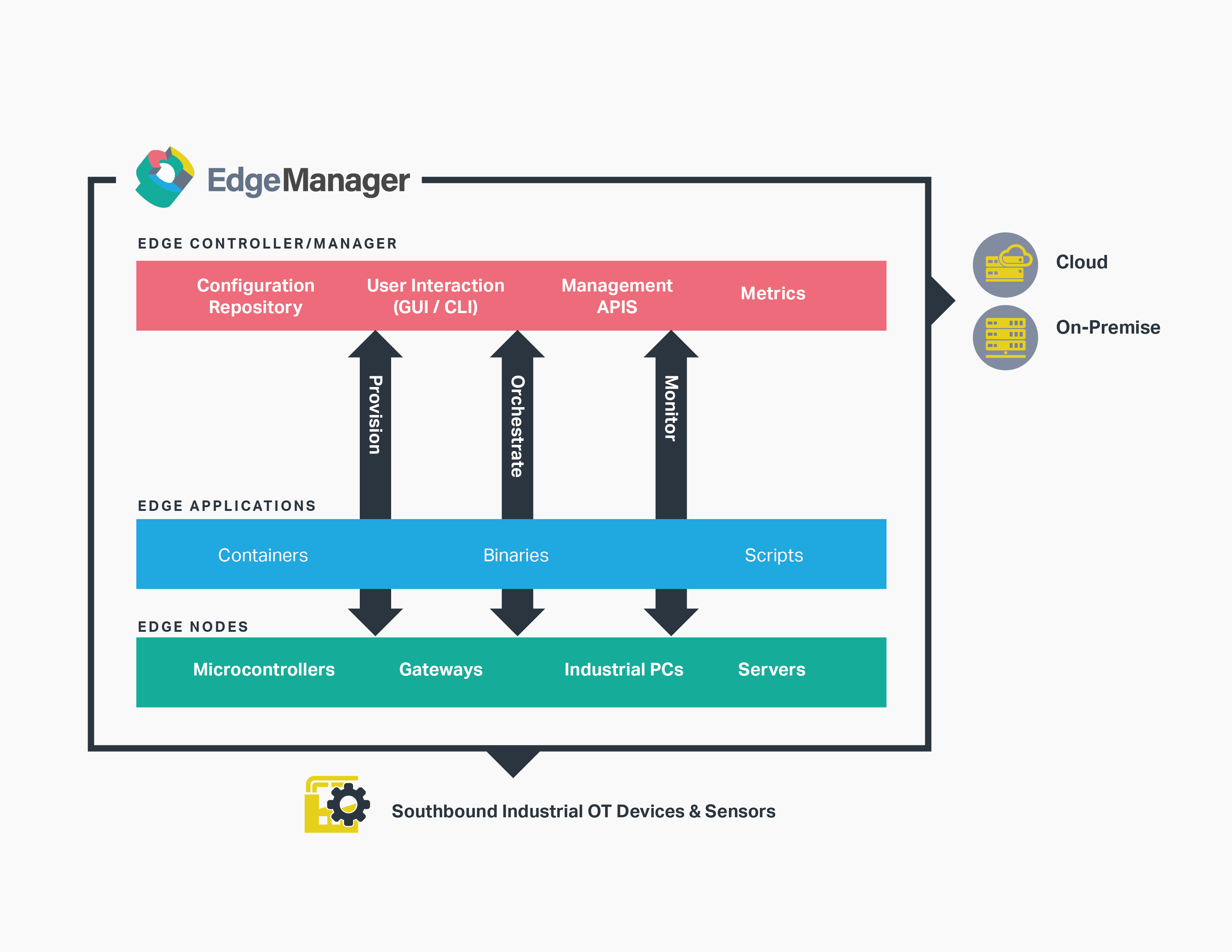 "IOTech's Edge Manager has been evolving and optimizing on usability and scalability. Managing devices in the 1,000s is no easy task and Edge Manager is tackling this problem from a single pane of glass graphical interface. Being able to deploy applications to devices using a tagging system is a powerful tool. I look forward to the future releases of IOTech's Edge Manager." - Bryan Rodriguez, Principal Engineer, Edge Innovator at Intel.
Edge Manager Benefits:
Simplifies Deployment and Management of Edge Systems

Edge Manager simplifies the provisioning, configuration, monitoring, and lifecycle management of nodes, applications, and their connected devices/sensors throughout the lifetime of a system

Addresses the Specific Constraints of Edge Systems

Designed to address the challenges and constraints imposed by edge systems such as:

Heterogeneity of managed node devices –

Edge Manager is designed to manage any type of node including servers, gateways, IPCs, and even MCUs

Resource constraints of node devices -

Edge Manager's edge agent can support the management of node devices with limited memory, disk, and CPU capacity unlike heavier-weight alternatives such as Kubernetes

Connectivity constraints –

Edge Manager makes efficient use of network resources and supports the deployment of edge systems with limited or intermittent internet connectivity

Application constraints –

not all edge applications can be deployed in a container or to nodes that can support a container runtime (e.g. an MCU). Edge Manager supports the deployment and management of both containerized and native binary application workloads

Designed for Performance and Scale

Edge Manager's loosely coupled event-driven architecture helps address edge scale and can support the management of 100s or 1000s of edge device nodes and their applications

Edge Manager OR Kubernetes

Kubernetes imposes footprint constraints which means it is not suitable for use on many classes of edge devices, it is only focused on container orchestration and it can't be used to deploy other types of workload, nor does it support node provisioning and management or OT device onboarding. These are additional capabilities that must be provided by additional services.

On-Premise or Cloud Hosting

Edge Manager's controller is agnostic to where it is deployed and can be run on-premise or in the Cloud (public or private) to provide users with choice on how to centralize the management of their edge systems

Automated Device and Sensor Provisioning

Automated edge node and device/sensor onboarding and provisioning removes the need for manual setup and configuration of potentially thousands of devices, helping to increase the velocity of solution deployment and reduce rollout costs

Fully Integrated IoT Solution Stack

IOTech Edge Central, our open edge data platform takes advantage of all the Edge Manager functionality to provide a complete end-to-end Industrial IoT edge solution stack
Introducing Edge Manager
Note: Edge Manager was previously named Edge Builder
More Information on Edge Manager
Evaluate
Trial all features of Edge Builder for free
More Information
Download the full product brochures and data sheets