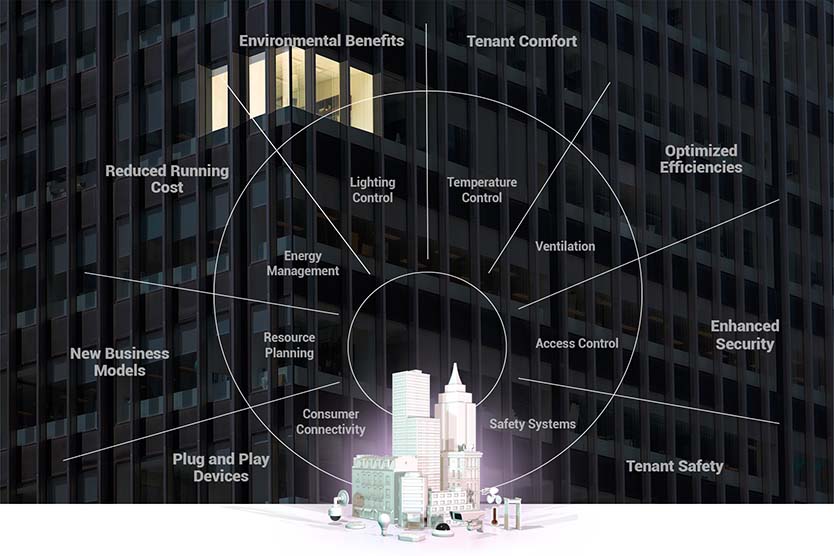 The Buildings Automation industry is being transformed by the adoption of modern data-driven approaches to smart building management. Exciting advancements in Artificial Intelligence (AI) and Machine Learning (ML) help provide tangible benefits to both building operators and their tenants, but it is IoT Edge computing that is the real enabler for getting scalable solutions to market. Read on to understand how the IoT Edge plays a key role in making these innovations become a reality…
Smart Buildings & the Emergence of New Technology
A "Smart Building" represents the notion of utilizing data from sensors and devices positioned around a building to make informed decisions as to how its operations should be automated. As a simple example, an operator with access to internal ambience conditions and occupancy levels in an office building may make the decision to adjust the lighting levels or turn the air conditioning up or down. This can have the dual effect of providing a more comfortable working atmosphere for staff in the building while reducing running costs for the operator – not to mention the environmental benefits associated with those energy savings.
Automatic lighting and air-conditioning rules are probably the most obvious use cases, but AI and ML advances, together with the abundance of data-producing sensors, are enabling new models that can significantly optimize how a building operates. Along with the above examples, access control, energy management, ventilation, fire safety systems, car parking, and surveillance are all aspects of a building that can be potentially monitored and automatically controlled. Cameras and computer vision-based analytics are other areas where industry leaders are seeking to modernize their capabilities. The more data that is available, the more options there are for innovation with that data.
There are many different types of buildings where a Building Management System (BMS) can bring great value. Government buildings, hospitals, transportation hubs, school & university buildings, retail premises, and residential buildings can all provide data that can be analyzed and actioned in real-time to yield positive benefits and cost savings to operators and tenants alike.
Collecting the Data
Clearly, to make informed decisions in a smart building, the first requirement is to be able to collect sensor data. Sensors for measuring ambient light, temperature and humidity, etc., are now often installed as standard in new builds, while it is straightforward to retrofit existing buildings with sensor equipment. There are many different sensor and device technologies used in this domain, so acquiring the data can be a challenge. Fortunately, there are device protocol standards such as BACnet, Modbus, Bluetooth Low Energy (BLE), and Zigbee which help to provide standardized connectivity, although it can still be a headache to integrate these different devices and acquire their data in a cost-effective manner. Interoperability is key and this is where the IoT Edge is crucial. Data should be collected and normalized into a form where local analytics and decision-making can be performed. Processing the data "at the edge" in this way, that is, in the actual building, brings benefits relating to more timely decisions, scalable deployments, reduced cloud costs, and better control over security. My article on the subject of Hybrid Edge and Cloud architectures discusses many of these points.
Sensor Fusion and Computer Vision
Operational decisions are, of course, more accurate when more data is analyzed as part of any reasoning. Multiple different sensor types will provide a more accurate view of the local environment compared to a single sensor alone, so the processing of multiple data sources, known as "sensor fusion", can enable a more efficient and optimal BMS. Buildings that include cameras open the possibility for vision-based analytics and can be considered as another type of sensor to provide more potential for innovation and value to customers. An example we're seeing here is highly accurate zone-specific people counting based on computer vision that is supplemented by active Wi-Fi connections metrics and/or localized RFID systems.
Edge Software Solutions
IOTech's edge software platforms provide a simplified environment for collecting, processing, and integrating data from multiple different devices at the edge. Running on hardware such as edge gateways or servers, the platforms can onboard and acquire data from the different sensors and edge devices installed in the buildings. The data is normalized and aggregated, and made available for edge decision-making, analytics, and control. The data, or a subset of it, can be streamed to a cloud or IT system which may run more detailed data processing such as trend analysis and refining of the AI models. The hybrid edge and cloud approach mentioned above can provide edge autonomy but also support remote monitoring and intervention when required.
IOTech software is particularly well-positioned for the Building Automation industry. It already supports many device protocols in this sector but also provides open SDKs which make it easy to add support for other open and proprietary protocols that are needed. In addition, IOTech enables video streams to be obtained from installed cameras and be passed to computer vision programs for processing - the results of which, for example, the number of people in a specific room, can be used by the automated edge decision-making algorithms.
Accelerating Rollout and Advanced Device Support
IOTech software is designed to simplify the work involved in the creation and roll-out of smart edge solutions such as a BMS. Our advanced BACnet capability is one acceleration mechanism that can automatically scan the building network for installed devices and lets operators onboard them and stream their data with minimal fuss.
IOTech platforms can be used either standalone or as components in an integrated solution. Check out this article from Products Director Andrew Foster that describes how some of our customers are building integrated solutions by embedding our software as the OT layer in their own platform stacks.
Unlocking New Consumer Models
It is important to remember that digital transformations are made possible by the availability of technical solutions, but it is the business models that justify their development and roll-out. IOTech is working with some forward-thinking BMS partners who are providing new and innovative subscription models that give building operators and their end customers different pricing tiers for different services and automation capabilities. As building owners and operators strive to compete, the availability of digital services and the underlying IoT Edge technology will be the key to customer satisfaction and beating the competition.
Contact IOTech or refer to our Product Pages for more information as to how we can accelerate the deployment of your advanced Building Automation Systems.
Author: James Butcher, IOTech Product Manager