Helping Industrial OEMs with their Customers' Digital Transformation
Competitive advantage, innovation, and product differentiation are fundamental to creating successful commercial offerings that resonate with customers and help vendors capture market share. Realizing these objectives is especially critical to the OEMs supplying fast-moving and highly competitive markets such as industrial and building automation.
With the advent of the Industrial Internet of Things (IIoT) industrial users/customers are increasingly seeking new solutions that allow them to leverage their equipment data in ways not previously possible to support new use cases that utilize the latest advances in Artificial Intelligence (AI), Machine Learning (ML) and software automation to improve the efficiency of their operations.
Industrial OEMs and ISVs are responding with the next generation of software-defined solutions that are far more configurable and extensible than was previously possible. In particular, the ability to connect to any OT device and interoperate with different IT/Cloud endpoints is critical to achieving this flexibility.
Since we launched Edge Xrt over a year ago the technology is proving to be a big success with our customers. Edge Xrt is already helping major Industrial OEM and ISV partners leverage the product's multi-vendor OT connectivity, cloud interoperability and high-performance edge processing capabilities to create a new generation of protocol-agnostic edge solutions.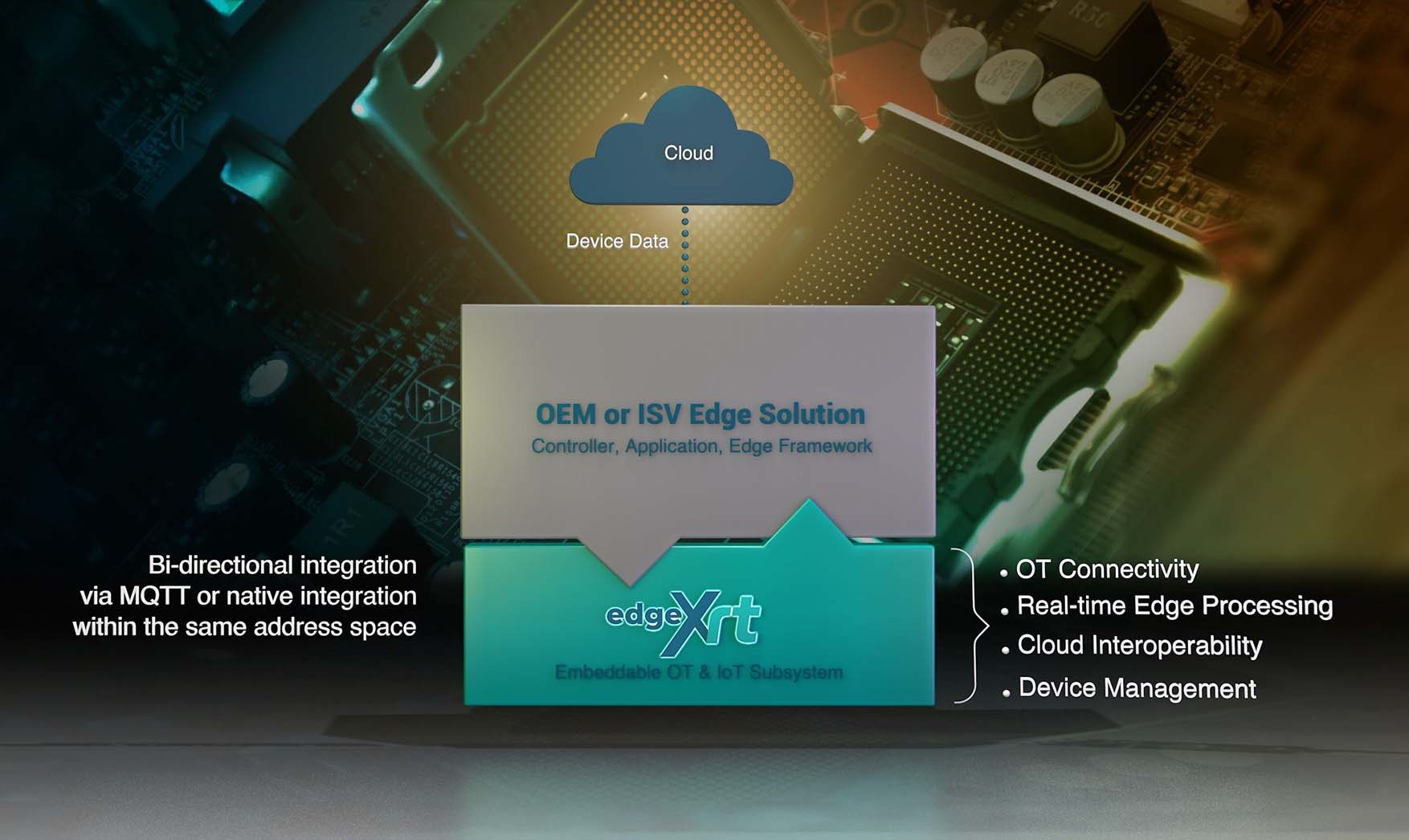 What our customers really like about Edge Xrt is how easy it is to integrate it into their own platform stacks or applications either via a standard MQTT interface or for maximum performance used as a library that can be co-located with the same address space as the 3rd party application and integrated directly via Edge Xrt's internal data bus.
Edge Xrt's small size and configurable architecture make it a great technology that can enhance other platforms and edge solutions. Our partners can easily choose the specific capabilities they want to utilize such as comprehensive OT connectivity or data transformation/local processing and embed these capabilities into their own solutions.
One of the new OT features that we're really excited about and that we developed in close collaboration with some of our biggest industrial automation partners is a new MQTT API that we've added to Edge Xrt and that makes OT device provisioning and management very simple and highly dynamic. This capability makes it very straightforward to drive the device management aspect (adding/removing devices, discovering devices, scheduling data reads, etc.) of Edge Xrt from an external system.
This is particularly powerful when managing connectivity with devices that support auto-discovery (e.g. BACnet, OPC UA, etc.). New OT device endpoints can be easily provisioned without the time-consuming step of manually creating device configuration files (Device Profiles) to enable Edge Xrt to communicate with each new device type. Edge Xrt can automatically generate the configuration file from the discovery metadata and the device can be simply provisioned under the control of the 3rd party system via the MQTT API.
So, in summary, lots of good things are happening with Edge Xrt, we've been listening carefully to our industrial users/partners to enhance the product with the new features that in turn with help them accelerate digital transformation for their customers.