Edge Xrt from IOTech

The Real-Time Software that Simplifies the Development of Industrial Edge Systems
Edge Xrt is the first real-time edge software platform designed specifically for time-critical and resource-constrained embedded Industrial OT (Operational Technology) and IIoT (Industrial Internet of Things) systems. It provides a powerful edge software solution that supports key capabilities such as Southbound OT connectivity, edge data processing, and Northbound IT/Cloud connectivity. Edge Xrt delivers these capabilities while also supporting the following key non-functional properties:
Small memory footprint (e.g. less than 100 KB)
Ultra-low latency data processing (e.g. less than 100 microseconds)
Predictable and deterministic real-time execution
Easily ported legacy hardware and/or operating systems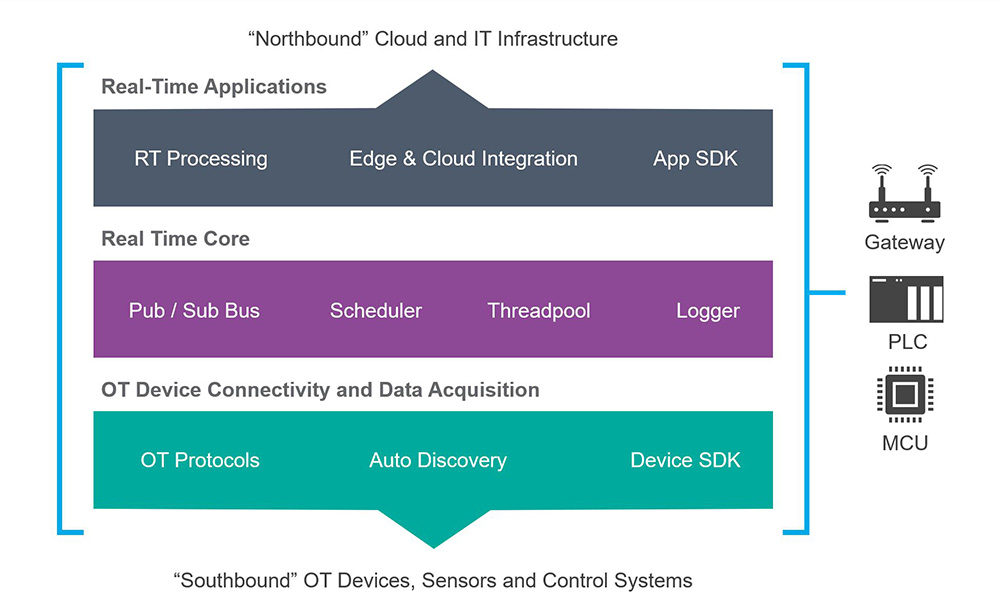 Due to its small memory footprint, Edge Xrt is perfectly suited for resource-constrained embedded applications such as those enabled by the next generation of connected microcontrollers, for example, Microsoft's Azure Sphere devices.
Edge Xrt Benefits:
Simplified Real-time Software Development

Simplifies development for connected real-time edge software applications and provides application portability, and improved supportability, delivering faster time-to-market and ease of product evolution

Easy Integration

Can be easily integrated into 3rd party edge application stacks via standard MQTT API or alternatively co-located with the same address as the application for maximum performance

Optimized Performance

Written in C for portability, small footprint, and low latency performance

Complete Deployment Flexibility

Can be deployed as a native executable application or containerized (e.g. docker) and/or into a virtualized environment

Runs on Any Device

A platform-independent solution that runs on any silicon, operating system (with POSIX-like support), and hardware

Standard Connectivity

Provides extensive pluggable "out-of-the-box" for many of the most common Southbound OT (e.g. Modbus, OPC UA, BACnet, etc.) and Northbound IT (e.g. Multi-Cloud, MQTT, REST) communication technologies
Watch the Edge Xrt Demo
More Information on Edge Xrt
Evaluate
Trial all features of Edge Xrt for free
More Information
Download product brochures and data sheets